If you work at home, adding a home office is the best way to create a dedicated work space you'll love and use. You can work anywhere these days just by moving your computer, but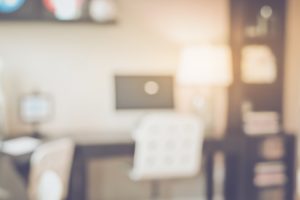 having an office as your primacy workspace provides a location for everything you need to work efficiently. Here's what you need to know about choosing a location, costs and resale value.
Adding New Space, or Converting Existing Space
When adding an office, you can put an addition on your home (an $80,000 project), convert a garage (a $10,000-20,000 job), or even repurpose a bedroom or other room ($27,000 in the Mountain States).
According to the 2015 Cost vs. Value study released annually by Remodeling Magazine, repurposing a room involves installing custom cabinets for workspace and storage, rewiring the room for computers and office equipment, drywall and painting the walls, and adding commercial grade carpeting. For most people, converting a room does not require such a large investment. You might be able to move a desk and other things you need into an unused bedroom and get to work. For a more upscale office, you can upgrade the look with custom-built cabinets and furniture.
If you need more space, you might choose to make one large room from what were previously two rooms by knocking down some connecting walls. Alternatively, you might want to subdivide a basement or other large space into smaller areas, especially if you have an employee who comes to your home to work, or if you need a conference room or a bathroom. For a more extensive job like this, hiring a professional contractor will ensure the work is done properly and up to code.
Will Converting Space for an Office Impact Sales Price?
One thing to consider when turning a bedroom or a garage into an office is the impact this might have on resale value. Although many people love the idea of a home office, others do not want to sacrifice a bedroom or parking space. On bedroom conversions, the real deal breaker is if you remove the closet, an essential to classifying a room as a legal bedroom.
Real estate agents often advise setting the room up as bedroom again before putting your home on the market. If you have converted a garage or invested in office-specific built-ins or other modifications, you may find this difficult to do, and will be looking for a very specific buyer that needs the dedicated home office space.
Work with a Good Contractor when Adding a Home Office
Adding a home office is convenient whether you have a business there, just bring home work from the office, or want a space to manage your personal affairs. To make the best use of the space, work with an experienced licensed contractor such as Topp Construction when adding a home office.