Want a home that perfectly meets your needs? A custom built home is the best way to achieve this goal, whether you have an architect create unique plans, or you use a stock plan that offers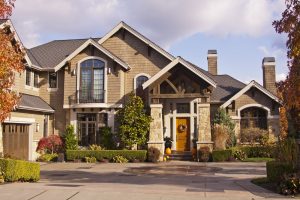 the basic layout you like with the ability to upgrade select options.
A Custom Home Can Bring Sticker Shock
Going custom ensures you will get the home you want, but for many customers, the price tag on a custom home can be a shocker. When you buy a newly built home from a developer, you are presented with a basic price that will change depending on your options. When you work with a company to build a custom home, you often get à la carte pricing which makes you more aware of all the pricing components. Rather than accepting one price and a few upgrades, you might experience several sticker shock moments as you confront line item costs that include fees for blueprints, permits, utility installation, and digging the foundation - all of which are not optional.
For most homebuyers, budget is a consideration that limits options even with a custom home. You may find yourself compromising on size, features, and finishes in order to stick within your budget. If you communicate a clear idea of what you need to your builder, you should be able to come out with a final home that you are satisfied with and compromises you can live with. For example, if you need a designated office, a first-floor bedroom, or a handicapped accessible roll in shower, you may be able to get them if you compromise on the quality of your granite countertops or ceiling heights. With a custom homebuilder, you can call the shots on what you want to sacrifice in order to get what you really want.
Obtaining the Estimate for Your Custom Built Home
When you decide to work with a custom homebuilder, you will be given an estimate that breaks down potential costs that include site improvements, materials and labor. Working within the budget that you have communicated to the builder, the estimate will use materials that fit your wallet, while including as much of what you want as possible. You have the opportunity to make choices that can drastically change the estimate.
Most people find that it is better to come into the custom home building process with a minimum of $10,000 extra that you can pitch in if necessary. You may find that upgrades with extra costs such as heated tile floors, adding a second sink in the kitchen, blowing in foam insulation, or finishing the basement, are worth going over budget a bit when you consider the long-term impact on value, convenience, energy efficiency, and function.
When you are looking for a custom built home, Topp Construction and Remodeling can build the home of your dreams on your lot. Contact us for a free consultation to learn how we are dedicated to communicating with you and working within your budget parameters to give you a one-of-a-kind custom built home.