Converting your basement into a rental unit is an excellent way to create income from living space you don't need, while meeting area housing needs. Most municipalities have regulations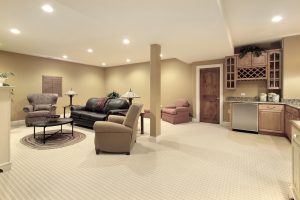 about whether renting space in your home is legal, and if it is, have specific criteria your space must meet in order to make it an acceptable dwelling. For best results when creating a rental unit, work with a reputable contractor to make sure that every aspect of the conversion complies with the law while making the best use of your space
Is Your Rental Unit Legal?
No matter how attractive your rental space is, it must meet codes. In most areas, you need a business license, which guarantees that a building inspector will examine your property to make sure that it is considered habitable and safe. As a landlord, you may be subject to future inspections.
If you try to rent out space in an area where it is not permitted, or if your unit does not meet local codes, your space will be considered illegal. If you violate local law, you can be fined, told to stop renting, evict tenants, and even be sued.
Legal Requirements for a Rental Unit
While the specifics vary by area, a rental dwelling unit must meet the following criteria and more:
Unit is structurally sound, with sound, watertight roofing.
Plumbing, electrical, and HVAC and other mechanical systems must be properly installed and maintained to remain functional.
Stairways must be properly constructed and located, while having a consistent rise and appropriate stair treads.
Minimum bedroom floor area meets codes.
Ceiling height must meet codes.
Proper exit must be in place that allows separate and easy access to the outside to tenants.
Bedroom areas must have proper egress windows with appropriate windows.
Fire rated barriers must be in place, as well as smoke and fire alarms.
In order to get approvals from the city, you will need to provide plans or drawings of your rental space.
Desirable Tenant Upgrades
To attract tenants, there are some other upgrades you should keep in mind to make the space not just functional, but also desirable:
A kitchen or at least a kitchenette with a sink, fridge, stove, and counter space is needed for tenant convenience, as well as to prevent the tenant from using potentially unsafe makeshift cooking appliances.
An upgraded bathroom that maximizes the available space, has bright lighting, and both a tub shower.
Lighting upgrades to compensate for diminished natural light make the space more inviting and modern.
Find a Professional for Basement Remodeling
If you are considering converting your basement into a rental unit, it is important for you to do your research and hire a competent contractor to complete the work. Professionals who specialize in renovation are familiar with the building codes and know how to create a beautiful space within budget and within code to allow for a quick rental. In Utah, Topp Remodeling & Construction can help you turn your basement into a lucrative rental unit. Contact us today for a free consultation about creating a rental unit.