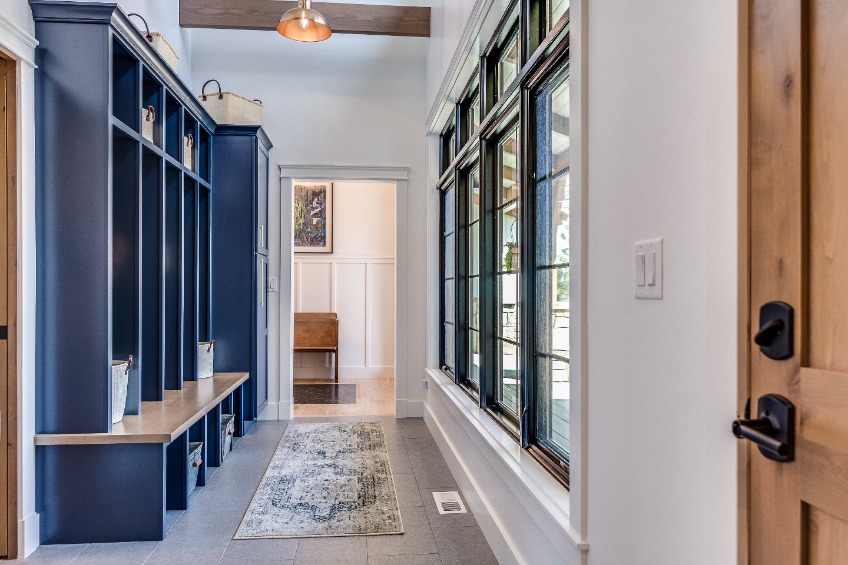 Mudrooms are often considered a transitional room because it's where you shift physically and mentally from the outside to the inside. These locations can be a functional space to drop stuff off or clean up a little before entering the home. It's important to keep these rooms organized, and no matter how much (or how little) space you have, you can make something work for you.
Mudrooms are often accompanied by laundry facilities, washrooms, cabinets, hooks and baskets, and perhaps even a wash area for pets. Animal lovers may opt for a shower station for cleaning their dogs after they've been outside playing, large families may want to create extra space for the large amounts of daily laundry with countertops for folding clothes and a sink for soaking soiled clothes, and business-driven folks may want to consider a safe space for storing their laptop and hanging their suit coat after work. If you're struggling to decide on a plan for your transitional space, check out these mudroom ideas.
Add an industrial, sleek steel sink. Add function and modernity with a standout element like a purposeful washbasin.
Bring in pops of color. Especially if your mudroom is at the front of the home or it's typically the first place someone will see when visiting, consider adding a more decorative touch to the design in additional to function.
Put vented front doors on the cabinets. If you want to stash away your stuff out of site, but hate the idea of a stuffy storage space, vented doors are a great idea. Damp shoes or umbrellas will get some extra help drying while they're stored away.
Make it a pet friendly place. If you're installing cabinets or a bench in your mudroom, consider transforming one portion of the cabinet to a kennel. Add a spot to wash or wipe down the pet and another place for all your furry friend's collars, toys, leashes, or blankets.
Choose a durable flooring that is easy to clean. A mudroom should be able to withstand some pretty decent wear and tear. The flooring is probably the number one area in the whole room to splurge on. It will get wet, and it will see lots of dirt tracked in over the years.
Keep some open spaces too. In mudrooms, it's likely you'll need to store some odd-shaped items, such as umbrellas, yoga mats, or skis. Bins and cubbies are great but keep some spaces open for larger items.
Use vertical space wisely. Especially in narrow rooms, the use of wall space will be critical. A little room can still be helpful if you know how to take advantage of what it offers.
Make a spot for seating for putting on or taking off shoes. A single seat works for small spaces and a long bench is great if you have the room. Seating in a mudroom also looks chic and can be dressed up with pillows or baskets.
The options are limitless because you can customize a mudroom to whatever your individual needs are. To get started on a cool mudroom as a transitional room in your home, contact our professionals.