Considering bathroom remodeling this year? Paging through magazines or watching some HGTV shows may convince you that the only way to make bathroom upgrades worth your while is if you can turn yours into a high-end spa, but you do not have to incorporate luxury features to make using your bathroom a more enjoyable experience.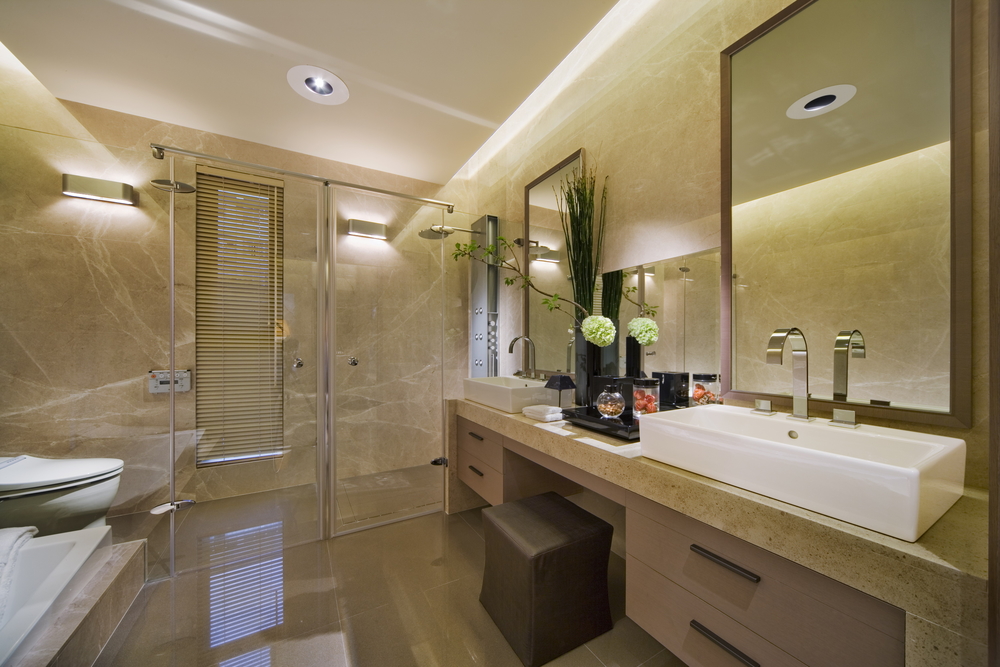 5 Cost Conscious Takes on High End Bathroom Remodeling
High-end remodels often involve moving the plumbing, adding luxurious showers and separate soaker tubs, and increasing the footprint of the room. If you have the desire to add those features, along with the budget and the space, you can incorporate more luxury into the mix. However, a good contractor can add features you love that will add convenience without a huge budget, or requiring that you expand the footprint of the room.
Here are five changes you can make that may require major remodeling dollars
Water Saving Fixtures
Not only are modern toilets low flow, but some are available with dual flush features that offer varied flushing options for liquid and solid waste. To complement the toilet, you can even add an automatic faucet that is hands-free and sensor activated. Unlike irritating automated faucets at the mall, you can add faucets that will save water without having false activations or operational failures.
Enhanced Shower
Especially if you remove the tub, you can greatly expand the space in your shower. Even if you keep the same size shower in place, you can still add a frameless glass door for a sleek modern look and add body jets and a control system that regulates water, light, and sound, and even adds steam. For a more basic yet updated approach, smart showers use less water while managing the water outflow so that you are satisfied with the temperature, spray coverage and velocity of the drops of water.
Refrigerated Technology
Whether you might like chilled wine or a cold soft drink when you are relaxing in the bathtub or you want to keep cosmetics, nail polish, or medications cold, a specialty medicine cabinet can do the job for you. This approach will give you the functionality of a small refrigerator, but sleekly fit into your bathroom
Bathroom Sound Systems
To add music in the bathroom, you can use a portable device, or if you envision long, luxurious baths, build a stereo system into your bathtub. The music is broadcast through the tub, without the need for additional speakers, an asset in a small room.
Hidden Toilets
While you can put the toilet in separate water closet or behind the partition to deemphasize its presence, you can even cover it with a sliding bench that will just look like more seating.
Find a Creative Contractor
When the sky's the limit, putting creative touches in your bathroom remodeling project can be easy; if you are budget minded, you need to find an innovative contractor to produce the effect you want without overspending your budget. Topp Remodeling & Construction is well known for both its creativity and its high quality bathroom remodeling.