It's very easy to "bite off more than you can chew" when it comes to a basement project; the blank canvas makes the possibilities seem endless, and you may think you have to capitalize on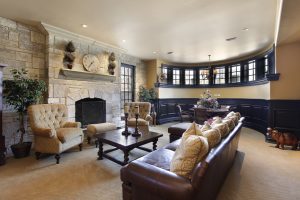 every square foot. It is important to plan thoroughly and then be realistic about what you can or should take on. Here are four reality checks:
Bigger jobs require greater skills. Tasks such as removing walls, adding a bathroom, or upgrading to LED lighting usually require professionals, such as a structural engineer, licensed plumber, or licensed electrician. You can put your home and family at risk if you do fail to do these jobs right.
Certain work must meet local codes. You need to pull a permit for extensive basement jobs, and amateur work may not pass inspection. If you don't get a permit, you can run into problems later if your attempts to do the job result in equipment failure, leaks or fire that your homeowner's policy may not cover, as well as disclosure and inspection issues when you go to sell your home.
Older homes may need more than meets the eye. When you see people on home shows finding massive problems in their homes that need to be fixed before the remodeling can start, be aware that this is not just made-for-TV drama; the need to make system or structural repairs is a reality that may require more than your DIY skills.
Everything costs more than you expect. You may have opted for DIY basement remodeling because you thought you could save on labor and materials. When you price the main components and then consider the costs for all the little things to finish the job, the price gap narrows.
Find a Contractor to Oversee your DIY Job
When approaching a DIY basement remodeling project, you need to know the difference between what you know or can learn to do, and when you need to call in a professional. One approach is to have a contractor review your plans and arrange for sub-contractors to take care of plumbing, electrical, and structural work, while you do the rest. If you find yourself overwhelmed at any point, you already have a relationship with the contractor who knows the project and who can step in if you need assistance at any point.
Avoid the perils of DIY basement remodeling by calling in a professional from the start. The experienced professionals at Topp Construction can do a quality job on your basement renovation.