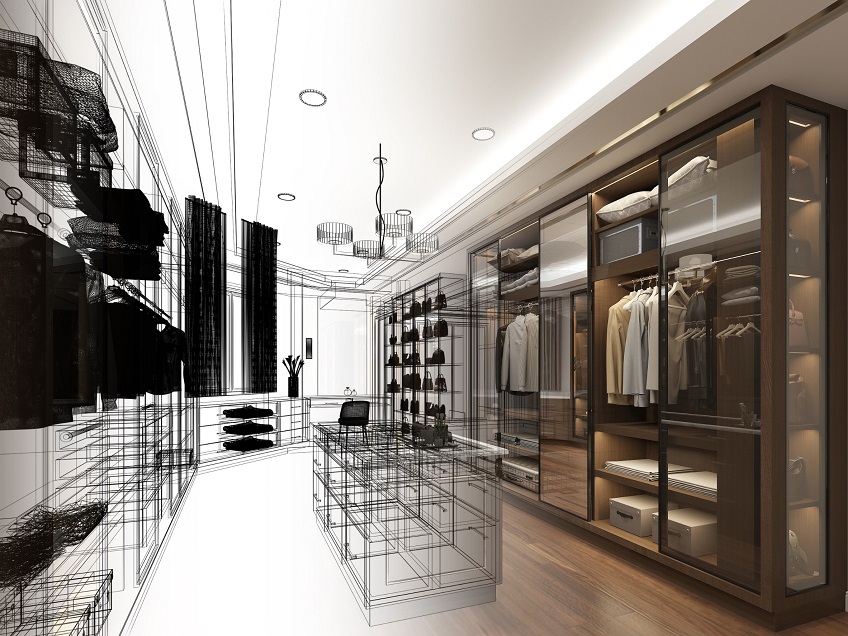 Have you recently had a room in your house open up as a free space? Maybe a child has moved out for college or marriage, or perhaps you're ready to switch that craft room into something more useful. One great way to switch that room up to a practical and enjoyable space is to make it into a huge walk-in closet. Whether you're a true minimalist or a huge fashionista, a customized room-sized closet is sure to please!
Layout and Design
Whether you have a large spare bedroom to work with or a small one, always start with a design concept. Decide where you want to cabinetry to go and how much shelving and open storage area you'd like. Consider what you'll want to store in this new space. When converting a room into a closet, you're probably able to add a lot more storage for different items that you haven't normally stored in your bedroom closet. This can be your new spot for storing all your blankets and sheets or towels and bathroom goods. It may also be possible to bring in an additional washer and dryer to the space.
Double rods and telescoping valet rods will help maximize the space. And consider building some floor to ceiling cabinetry so you don't lose an inch of possible storage space. Special shoe racks, velvet-lined jewelry drawers, and open cubbies to show off collectibles or treasured items are all great ways to provide a beautiful look while also being practical. A mix of drawers, cabinetry, rods, shelving, shoe racks, and empty space is usually best for closets. Always factor in some empty space in a closet for shifting/unexpected items. Consider your new storage needs for the space and build a custom design to cater to those needs.
Making the Space Fabulous
After you've created a practical design, don't forget the accessories. Mirrors will help make the space feel bigger, but they're also a must-have for any walk-in closet. Bring in a seating area for when you're putting on shoes or just perusing your gorgeous closet for what to wear for the day. Choose your favorite colors for painting, bring in a rug, and don't forget the lighting. Like bathrooms, lighting in a luxurious walk-in closet is a must. After investing in such a great space, you don't want to end up struggling with how your outfit looks in natural light because you got dressed in a poorly lit closet. And don't leave the lighting to the natural light outside—allowing sunlight in all day will begin fading your clothes and other fabrics, so you'll want to install window coverings that can open and close and install good lighting instead.
If you have a bedroom that's just begging for attention, consider bringing new life into it with a custom walk-in closet. Start with a custom design for your needs that is made from durable products and ensures your storage needs are met. Contact Topp Remodeling and Construction to create the closet of your dreams.