Having an upper floor laundry room is a popular feature of new construction, but many homeowners long to add this convenience to their current dwelling. Taking clothes up and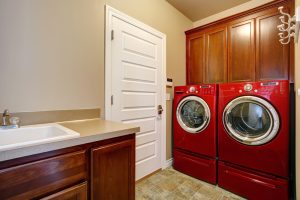 down to the basement adds to the effort of doing the laundry, and if your basement is unfinished, can take you down many stairs to a cold, dark, uninviting space.
With a washer and dryer positioned near where people dress and remove their dirty clothes, you can save steps. Rather than letting laundry accumulate, you can do smaller loads throughout the week so that the overall task of laundry is less time-consuming. What is involved in bringing appliances out of the basement and creating an upper floor laundry room?
What to Consider Before an Upper Floor Laundry Room Remodel
Before relocating your laundry room, you need to consider several things:
Do you have sufficient room to make the transition? Stackable washers and dryers take up less room, but if you want full-size appliances, a utility sink, and room to fold the clothes, you will need a sizable area. Some people who lack space to create a room put the appliances in the kitchen, bath, closet, or mud room.
How close to where you want the laundry facilities do you have plumbing access and electricity? Your existing lines might be enough for a small unit, but full-size equipment often requires additional plumbing, drains, and a gas line or 220 line for your dryer. Proximity to plumbing connections makes the job easier.
Can your floors support the weight of a washer and dryer? These heavy appliances, which can weigh 200 pounds each empty, increase the load on the floor - especially when they vibrate. Your contactor can check to see if your home can handle the increased weight.
What is your budget? For most people, a key factor is price, which can exceed $2,000 to build out the space and update plumbing and wiring as needed - not counting the cost of the appliances and extras, such as flooring, storage, and counter space. This may be a worthwhile investment for you, but it is important to consider the ROI.
Not a DIY Job
You may think that you and your handy brother-in-law can cut the cost by doing some of the labor yourselves; however, DIY and creating an upper floor laundry room usually doesn't mix. Improper preparation and installation can lead to leaks that can produce water damage and mold, and inadequate electricity can pose a fire hazard. The higher in the house you have the laundry - say if you move it all the way up to the second floor where the bedrooms are - the more potential area you have for leaks and other problems. You need to either waterproof the location for the appliances or make sure they are sitting in pans to contain leaks; ideally, you will have a tile floor and a floor drain. Having a professional do the job ensures it is done correctly.
Call in the Pros
Good preparation and competent installation are essential for a successful upper floor laundry room remodel. Make a call to the reliable contractors at Topp Remodeling & Construction today to get the upper floor laundry room of your dreams.