For many people, a kitchen remodel is the best home improvement they can make. The kitchen is a gathering place in many homes, so the layout, functionality, and appearance can make a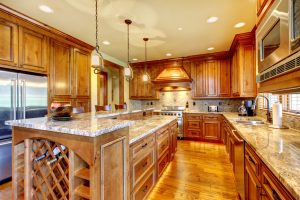 difference between a home you like and one you love. There are several basic types of remodels you might do, and when you entrust your remodeling to a creative, capable contractor, the sky's the limit to potential renovations.
Choosing What to Upgrade
Many homeowners are happy enough with the placement of appliances, and choose to concentrate their kitchen remodel on replacing cabinets, updating countertops, modernizing floors, or buying new appliances. Working with your contractor, you can replace all or some of these things while sticking to your budget, if you choose a level of quality you can afford.
You can buy restaurant-quality appliances vs. more modest ones from a warehouse, quartz countertops vs. laminate ones, and custom cabinets vs. stock ones and have a practical and attractive upgrade. If you can't afford to do everything you want, you can pick one thing to splurge on and do other upgrades more conservatively, such as choosing granite counters and stock cabinets.
Do you Like Your Kitchen Layout?
Making changes to the layout of your kitchen can dramatically improve the function. The layout of your current kitchen may be determined by where the plumbing is located for the sink and dishwasher and where the power is for the stove and refrigerator. Usually cabinets are built around these hookups, so changing the location of both appliances and counters is labor intensive and often costly.
A good kitchen remodeling company can help you rearrange the appliances or even expand the kitchen. If you want a more open floorplan where your kitchen flows into the family room or other living space, the contractors can take down walls, remove upper cabinets that block the view, and add an island, breakfast bar, or peninsula. While the physical size of your kitchen might not be bigger with walls down and the sink and appliances rearranged, the results may make you feel as if you acquired much more space.
Is There Enough Kitchen Storage?
If you lack space in your kitchen, your remodeling specialist can maximize the area you have with creative storage solutions. They might suggest adding lazy Susans, drawers, or pull-out racks for your cupboards, or even adding an island with drawers and cabinets if you have space. Where you have stock cabinets that leave space from the top of the cabinets to the celling, they might suggest custom cabinets that reach the ceiling to offer more storage. If you have the space, they might even be able to add a pantry or expand your existing one.
Deciding on Your Kitchen Remodel
If you want to improve the efficiency of your kitchen, a contractor who offers renovation services can help you improve the layout as well as make upgrades to your countertops, cabinets, and appliances. Whether you need a minor upgrade or a major kitchen remodel, Topp Construction can help you.