Undertaking a bathroom remodel can improve the look and function of your current room, while adding to your home's resale value. Like most homeowners, you may page through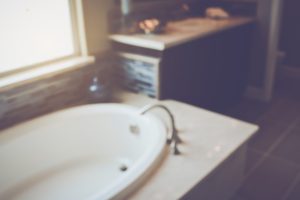 magazines, walk through home stores, or search online for ideas. What finds its way into your final design depends on your needs, wants, and budget. By working with a reputable contractor, you can reconcile these three factors to come up with a remodel you love, whether you want to create a bathroom that is like a spa or one that is an updated version of what you have.
Which Modern Trends Should You Incorporate?
Modern bathrooms often have many desirable features that may or may not work in the space you have. For example, many designs feature separate bathtubs and showers rather than tub/shower combinations. The showers are often frameless glass enclosures with rainfall showerheads, while the tubs are freestanding claw-foot or built-in models that may include features such as jets or whirlpool action. Another popular trend is having dual sinks in one vanity or even dual vanities to accommodate multiple users in the bathroom.
Any of these features are desirable, but come at a great cost, as current plumbing fixtures may need to be moved and additional lines put in. You may even need to expand the footprint of the room by adding space or moving walls. For many older, smaller homes with a five by seven bathroom, making the room bigger to include desirable modern features is not an option.
What Will My Budget Buy?
What is feasible for you given your space and budget for a bathroom remodel? What can you get for your money?
According to the 2015 Cost vs. Value Remodeling Survey done annually by Remodeling Magazine, a modest bathroom update includes replacing the toilet and tub/shower combination, updating the vanity and adding a new countertop, and painting or wallpapering the walls. This job might cost $15,879 in the Mountain States, as compared to $16,724 as a national average. A more upscale renovation might run about $52,445 in the Mountain states or $54,115 nationwide. For this type of investment, you can expect to more than double the size of the room, relocate fixtures and replace them with high-end models, do
extensive tiling on the shower and floor, and incorporate other luxury features like heated floors and jetted tubs into the plan.
Using a Contractor Ensures a Quality Bathroom Remodel at a Fair Price
The price of your renovation will vary according to how much you do and what quality of features you add into your plans. The point is, the more your design requires expanding and modifying, the more costly the renovation will be.
When renovating your bathroom, using a contractor gives you a distinct advantage. With plenty of experience in bathroom renovation under his belt, he can tell you how much you will get for your money, make suggestions or maximize what you have to spend on your bathroom remodel, and do the job right the first time, without costly DIY mistakes.
To hire a professional contractor for a bathroom remodel in Utah, contact Topp Remodeling and Construction today for an in-home consultation.