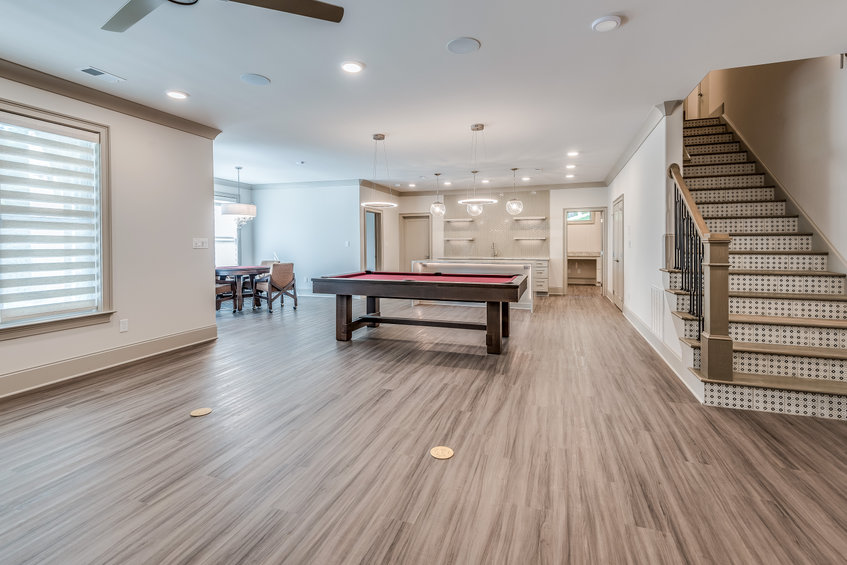 Don't put off finishing your basement any longer. It's common for basements to be an afterthought, but it shouldn't be. There are tons of great designs for a basement—it doesn't have to be the typical man cave (although that's still cool) or simply set aside for storage. We have some creative options that you may not have considered before.
A creativity space: Take the thought of the old-fashioned craft room out of your head. Transform the simplified version into something spectacular. You can make a space for all your creative endeavors. Dress up the space with trendy wallpaper on an accent wall and add open shelving or hide-away large drawers for perfect storage. Customize multiple workstations that cater to whatever type of inspiring space you want. Fly tying? Song writing? Meditation? Felt creations? You name it, we can make it. The only limit is your imagination.
A conversation space: Forget the basic sectional with big screen TV layout. Instead, made the space into an amazing conversational space. If you host book clubs, staff meetings with your at-home business, or host regular Zoom meetings, an elegant basement set aside for purposeful conversational entertaining will enhance your home's ambiance. Complete the look with a wet bar and it'll feel like you've been teleported to an adorable café. Make this space unique for the type of entertaining you do, and forget the electronics. This space is for chatting it up.
A gaming area: We're home a bit more post-covid, and a gaming area in the basement can entertain your family comfortably. Including video gaming systems is probably a given, but also include great spaces to work on a puzzle, play a mean game of Twister or Jenga, and maybe even a reading nook when you need your kids at a 4 instead of an 11. From billiards to a mini bowling alley, the sky is the limit. Think about how your family likes to let loose and make the room fit your entertainment styles.
A music center: Even if your family isn't full of professional musicians, a music area can be a ton of fun. Combo it with an area to dance with mirrors, and consider putting in a karaoke machine, too. You'll be hard pressed to find someone who doesn't like music, so even if you make this a listening room, it can still be the raddest room in the house. If you have teen kids, you can count on your basement being the designated hang out spot, which means you're able to see if they get into too much trouble.
A stay-and-play area: Got grandkids? How about kids who crave sleepovers? Then this one is for you! Design a unique play area for the kids with built in bunk beds along the wall. Your kids will feel like they're at a swanky hotel room designed especially for them. If you're daring, you can even add a small diner-style bar area and they can make some of their own snacks.
With basements, anything is possible. Add value and fun to your home by finishing a unique-to-you basement today.