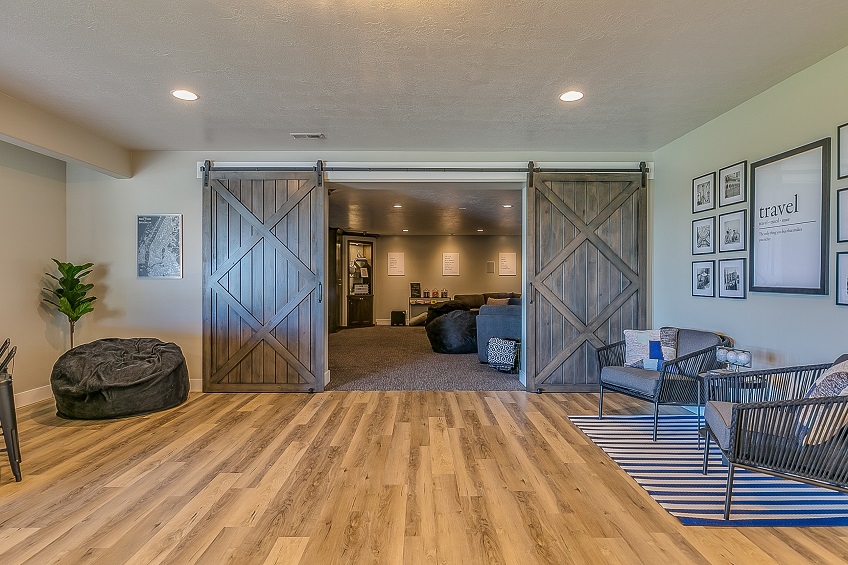 Finishing a basement is an exciting adventure. There are so many possibilities to create a functional space to suit your every need and desire. A little imagination is all you need to create a truly magical place. Here are some ideas to get you started.
For the Gamer – Gaming rooms come in all shapes, sizes, and options. Go all out with a video game theme with a huge TV and entertainment center for every console. Create an area for some vintage arcade games to add a cool vibe, and finish the room off comfortably with bean bags and reclining sectionals for all-night gaming competitions. Maybe a quiet, sophisticated space is more your speed with a wet bar, poker table, and a high-end sound system to play your collection of vinyl records. You can get the best of all worlds by combining family-friendly fun with a more mature setting with the right design and layout.
For the Artist – Being creative requires a spot to explore your visions and allow for you to make a mess. It needs to be versatile and spacious enough to work on projects that pop into your head. From painters to potters, sculptures to crafters and beyond, a basement with plenty of wall space to hang your pieces, outlets for the tools you'll need, and desk space for creating can provide the perfect haven for all things inspirational.
For the Fitness Guru – Home gyms may not be for everyone, but for the avid exerciser, they are often a necessity. Exercise equipment is bulky and sometimes loud, which makes them perfect for a basement setting. Personal trainers will love a custom, high-end basement setup that caters to their business and creates a comfortable space for their clients to work out. You also avoid commute time, over-crowded gyms, and membership fees with a nice home gym. Plus, you can buy exactly the machines you want and never have to worry about someone not wiping it down after they use it.
For the Entertainer – Are you in a book club and love to host the meetings? How about an office manager who wants to step up team building with your staff? Maybe you're the neighborhood party house and need a better spot for those weekend impromptu gatherings. However you like to entertain, you can create a basement setting that is comfortable and inviting. Designating the basement to solely entertaining will help minimize cleaning because you have a specific area that is all ready to go when visitors stop in—no more rush, frantic tidying of the whole house.
For the Kids – Turning a basement into the greatest playroom on the block can make your house the neighborhood hot spot without the stress of constant messes in your living space. If you love having your kids' friends over so you know what's going on, consider making the basement the desired hangout spot. As your kids grow up, you can shift from little kids' toys to more grown up activities to keep interest high and kids wanting to stay home and invite friends over.
Contact Topp Remodeling & Construction today to get started on the basement of your dreams.