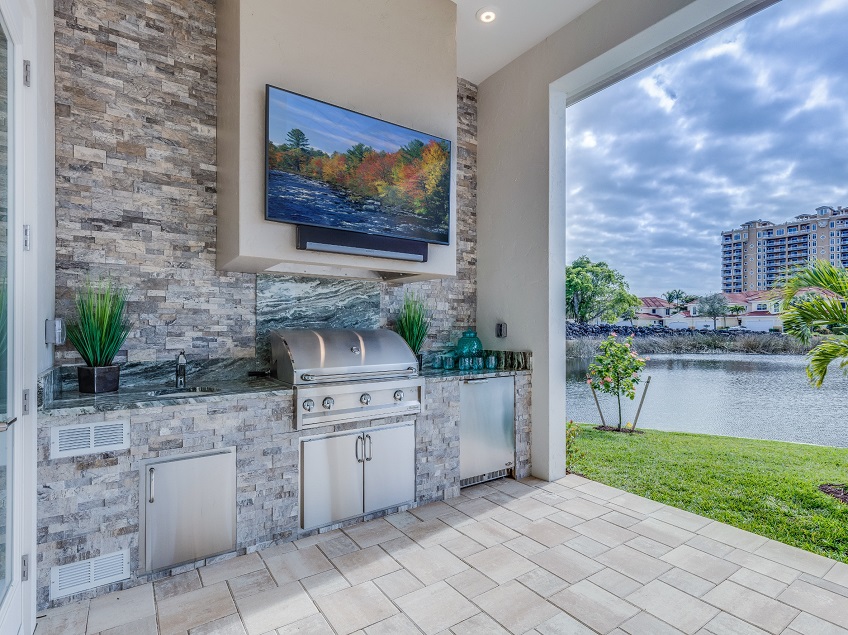 The idea of an outdoor kitchen has certainly stepped up a notch over the past few years. Ideas have moved beyond the oft-forgotten standalone grill in the corner of the patio with a folding plastic table for picnics or barbecues. Today's outdoor kitchens can be luxurious, begging family and friends to hang out in the yard any time of year. Here are some amazing ideas to get your outdoor dream kitchen started.
Plan the Space: First, decide how much space you want to carve out for this area and where you want it located. For some, directly off the house is the best choice, but others may want it out in their property a bit farther for seclusion. Consider sun exposure and if you want to entire area to be covered or not, the wind patterns in your area, and access to utilities. Some spaces may need a deck or concrete patio, and others may need a bigger overhaul with a separate structure. Take some time with a professional to discuss layout options for a fully functional space for your specific needs. How do you like to entertain? What do you want to flow to be in this area? How much counterspace to plan you'll need for prep and serving? Do you want the area to be used for multiple uses?
Choose Appliances Carefully: You definitely don't want to skip on appliances in a luxury outdoor kitchen. Even if the area is covered, you'll want appliances that can withstand the elements and are durable. There are many built-in grills, wine storage, refrigerators, or pizza ovens that would look great no matter the size of kitchen. But even if you don't opt for built-in options, consider ordering a cart or racking to store these higher end appliances on.
Consider the Materials: The materials you choose for your outdoor kitchen should be aesthetically pleasing to you in addition to being functional and durable. You'll likely want this area to also be easy to clean. Stainless steel is a great choice for appliances, and stone, granite, or concrete can be a good choice for countertops.
Add Luxurious Features: As you're designing, consider some extra luxuries like a special bar area with an outdoor ice maker, or a custom designed water feature or fire pit. Don't forget outdoor lighting to highlight the best parts of you design.
Bring the Inside Out (or don't!): Whatever you decide to do for your outdoor kitchen, make sure it's purposeful. Some people like their outdoor kitchen to be an extension of their home, which is a beautiful option for adding some space. Others enjoy making this area completely separate from the home, almost like a little vacation area in their own backyard. Both options are wonderful and can be customized to your interests and style needs.
If you're interested in creating an outdoor space that is truly unique and luxurious, Topp Remodeling and Construction can help you achieve your dreams. We will also ensure your addition is up to code on your property and advise you on functional designs.