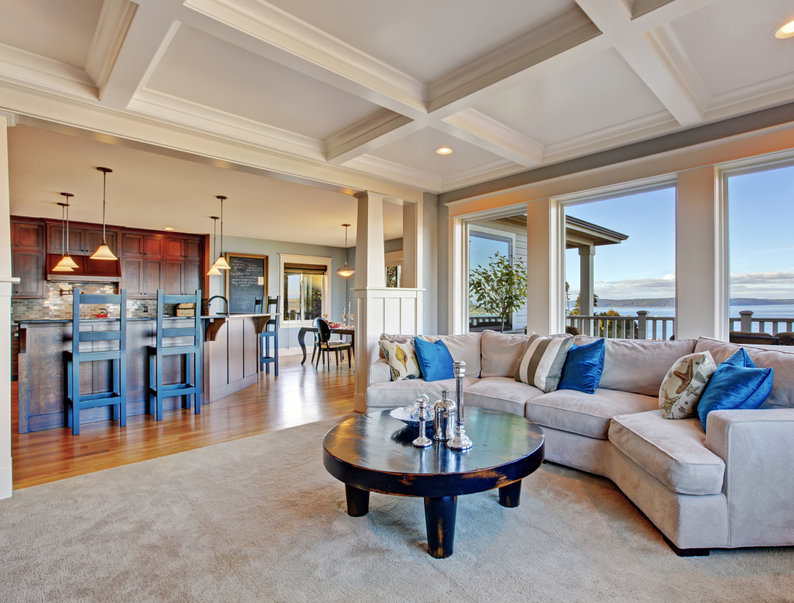 Building or remodeling a home is exciting. Be prepared for this new venture with a solid idea of the goals for your home. Be practical about how you live your life and create a space that works for your needs. Your home needs to function efficiently, but it also needs to feel comfortable and cozy to you, and that may look different to other people. Allow a good amount of time to think about the layout and floor plan of your space and how it will fit your unique lifestyle.
Open Floor Plans
Open floor plans have been popular for a while here in Utah. We love our family gatherings, and the kitchen always seems to be the landing spot whenever the kids are home or friends come over for a drink. Open floor plans have a lot of positives: they have great traffic flow with no walls or doors impeding movement, they share light from other rooms and can bring in elements of other areas of the home, they allow for easy visibility of the kids playing in the great room, and they offer a great deal of flexibility with the many multifunctional options the area can create. For many social people, open floor plans are a real winner. Before you jump on that open floor plan, there are some considerations to pay attention to. Open floor plans can be noisy with a large space for voices to carry. They also require a bit more daily maintenance because there's no way to close that door on the messy adjoining space. Your design choices may need to be a bit more streamlined where several spaces will be visible at one time. With any design, there are pros and cons. Your lifestyle will determine if an open floor plan is for you.
Closed Floor Plans
Closed floor plans were very common in the 70s and they're making a bit of a comeback. Benefits of a more closed floor plan include enhanced privacy and quiet spaces. Many families enjoy having separate spaces for separate activities, especially if children have vastly different hobbies or if your family has different work or school schedules. As we've been home a bit more during covid, we're coming to value our privacy a bit more, creating a need to close up some of those otherwise open spaces. Closed floor plans are also easier to contain messes—when someone drops by unannounced, it's a lot easier to stash the laundry out of site for a few minutes. Closed floor plans are also great for creating specialized spaces such a music rooms, libraries, or home offices. These floor plans can feel intimate and cozy. However, these homes can also feel tight or crowded for some people and they may not offer as much natural light as an open plan.
Before you jump on the trendy open great room/kitchen combo floor plan, make sure the openness is what you and your family really enjoy. Likewise, before you decide on full privacy, make sure you consider your entertaining needs and designing style. At Topp Construction, we build custom homes for any lifestyle and can bring whatever elements you desire into your dream home.