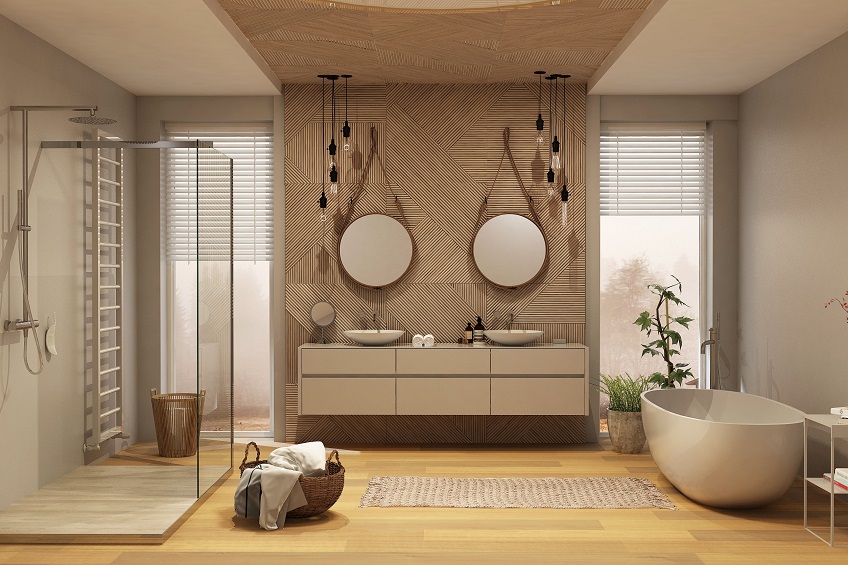 Bathroom remodels require special attention. They need to meet functional needs and be utilitarian in purpose while also providing a comfortable, serene, and luxurious atmosphere. It's not always easy to blend the best of these worlds, but it can be with the right planning, contractor, and execution. Before you start your bathroom project, consider these factors:
Be Clear with Your Contractor
Isn't it great when you immediately hit it off with your contractor? Even though rapport may be good, you still need to be sure you're all on the same page. Good communication is necessary, but it's easy to get too comfortable and think your contractor is reading your mind. Be clear about every detail even if your style ideas are compatible.
Budget for More than You Think
According to Architectural Digest, bathroom remodels in the US right now average about $11,000. Whatever your project and budget needs, set aside a bit more than expected. It's common to run into other issues as the remodel happens as well as new ideas as you see the project come to fruition. Also discuss your budgetary needs with your contractor to ensure they can deliver what you're looking for at the price that's acceptable.
Plan Lighting Early
Far too often we see people put lighting as an afterthought, but this is a mistake. Lighting options and placement should be contemplated early in the process. Each bathroom is unique, some are dark with tiny windows, some contain lots of natural light, and some need to work for several needs. Lighting needs to be tailored for all these needs, and poor placement can ruin even the most up-scale of bathroom designs.
Think Twice about that Freestanding Tub
A gorgeous, clawfoot tub may be aesthetically pleasing, but they're not for everyone. For those who enjoy keeping their shampoo and body wash close by, you'll need to find an additional storage solution around the freestanding tub. They often cool quickly because they are surrounded by air, especially cast-iron tubs. Freestanding tubs take up more space, so they may not be practical for smaller bathrooms. There's also a bit more cleaning beneath the tub and around the feet, especially if you have kids who like to splash.
Don't Forget Outlet Placement
Outlet placement is approached a lot like lighting—for many, it's often an afterthought. But we've all been at a hotel or friend's house with inconvenient outlets and know the frustration of trying to reach everything or balance that curling iron in an awkward spot. Even in beautiful bathrooms, poor outlet placements can create frustrations when trying to get ready.
Smart Storage
Work with your contractor to create storage that is integrated, not added on at the end. Even small spaces can have impactful storage solutions. Consider hidden cabinets between studs or recesses in the shower to maximize your options.
Because bathrooms are so personal, the approach to redesign and remodel needs to be carefully thought out. Think outside the box to create a unique-to-you space that serves all your needs. If you're ready to create the bathroom of your dreams, contact Topp Remodeling and Construction today.